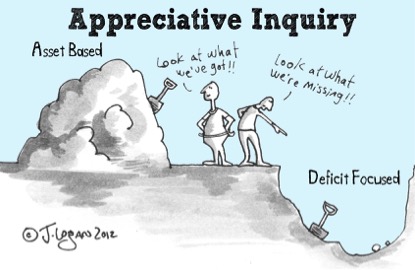 Appreciative Inquiry
Which presumably would be Enquiry if it was a UK creation.
The Problem
The problem is we have a habit of looking for problems rather than solutions. And we usually find what we are looking for.
Almost all of my work with organisations and teams started with a problem that needed fixing. Whilst it is important to recognise problems for what they are the way we approach them can make a huge difference. This difference is felt in both the journey and in the final destination: The journey can feel like a painful exploration of errors and failures with blame and criticism aplenty along the way. The destination can be a list of actions and accountabilities to make sure something is done as it should be. With an unspoken 'or else' if things don't improve.
The thinking behind this is that the organisation (or the team or the people in the team) represent a problem that needs to be solved. Implicit in this is usually a view that someone from outside the organisation or at the top of the organisation needs to step in and put things right. Is it any wonder that people don't feel exactly positive about change initiatives?
The solution
An alternative mind-set approach is Appreciative Inquiry (AI). In a nutshell it looks for what works and builds clarity about what we want our service, operation, product or whatever to be like. It involves all the people involved (not just a small group of 'experts') and creates long-term positive change in organisations and groups. It encourages people to work together, better understand how they can work together and work to a common aspiration of what is best.
The thinking behind this is that the organisation (and teams and people in the teams) is a mystery full of opportunity and potential that should be embraced.
An implicit assumption in AI is that what we focus on becomes our reality – focus on what is wrong and everything is seen through that filter or frame and this filter or frame defines our unconscious sets of assumptions.
AI isn't a soft option or easy alternative. Quite the opposite. It is a clear and effective approach to building work that works. There are dozens of case studies on how effective the approach is and if we want to create workplaces that both deliver great work and are great places to work in then this seems like a breath of fresh air to the spiral of negative assessment of failures, errors and wrong doing that needs to be fixed.
Harvard Business Review suggests that 60-70% of all change efforts fail. Einstein suggested that continuing to do the same thing whilst hoping for a different result was a sure sign of madness. So, if you want to avoid the negativity that traditional transformation and change programmes create and do something more positive and successful try Appreciative Inquiry as a first step antidote to avoiding madness!
Oh, for a bit more detail (but nicely succinct) background I recommend 'The Thin Book of Appreciative Inquiry' by Sue Annis Hammond. Or get in touch with Peers Consulting Ltd and we will try to help. In an Appreciative way
Thanks for reading
Jaime